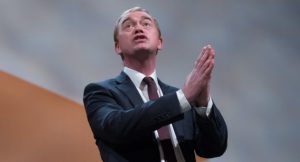 Arch remainer and well known gimp Tim Farron thankfully missed the recent vote on the ERG amendments which should torpedo the whole silly Chequers mess due to 'other important commitments'?
What could these commitments be to make the vertically challenged ginger topped git miss such an important vote to his few followers I hear you ask?
Well, it turns out that he was speaking on his Christian values and beliefs on gay man sex. I personally struggle to see the connection here but clearly he must be some deranged deviant of some kind.
While it would be easy to fill these pages with almost unlimited examples of Farron's bumblefuckery but, I think it is clear for all to see, that he is a total cunt.
Btw – that twat Cable missed it too – as has been previously highlighted on these hallowed pages – another cunt.
Nominated by Proper Cunt