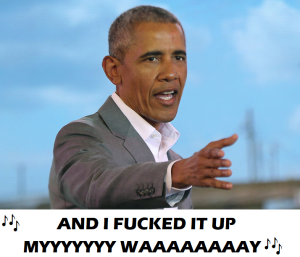 Barack Obama (not a climate scientist, carry on – NA) and the media bullshit that surrounds him are cunts. He's flown over by private jet to save the world at Cop26 and, according to the sycophants at the BBC, was met by a cheering crowd. Why the people of Glasgow would cheer Obumma in particular is anyone's guess. Anyway, Obumma has given a speech which hinges on the spurious allegation that the Trump administration is responsible for America's delay in saving the planet and the usual shit about the little people making sacrifices to save mythical polar bears, whilst over promoted losers like himself carry on regardless.
Fuck off you cunt! You were a useless president who the leftie wokies thought was going to redefine the cosmos because of the colour of your skin, and you proved them to be utterly wrong.
Get back on your plane and fly back to that thing you call a wife.
https://www.bbc.co.uk/news/live/world-59192126
Nominated by: Field Marshal Cuntgomery