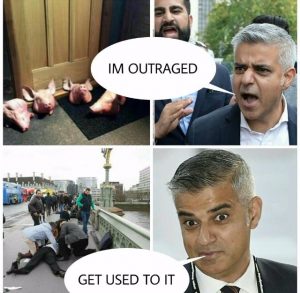 An emergency cunting for everyone's favorite mayor. Londonistan mayor Suckdiq Khant is really putting himself out there for the cunt of the year awards. This useless cunt has finally perked up about the illegal and dangerous demonstrations/riots in London. Of course, being the cunt that is Khan made a reference to the risk of COVID-19 (Bit fucking late) but then launched a tirade into the "far-right" which from what I have read was a large group of football fans and veterans who wished to counter demonstrate with the primary objective of defending property and preventing anarchy.We used to have a force for that can`t remember the name of it though.
Here are the cunt`s comments:
"However, I'm extremely concerned that further protests in Central London not only risk spreading Covid-19, but could lead to disorder, vandalism and violence.
"Extreme far-right groups who advocate hatred and division are planning counter-protests, which means that the risk of disorder is high.
"Be in no doubt these counter-protests are there to provoke violence, and their only goal is to distract and hijack this important issue."
—–
He describes the protestors are largely peaceful.Even though over 60 officers injured Horses attacked and criminal damage the cost of which I dread to think. That being said Khan is of course accustomed to his streets looking like war zones.How many black stabbings has he been concerned about on his own turf?
Also Khan seems to think a solution is boxing off Churchill and the Cenotaph memorial to prevent vandalism when he could just ring up Cressida Strapacoctomy and tell her brigade to protect them for thugs which the so-called "far right" wanted to do.Now I hate the far-right with a passion but the definition of far-right used today has been s far expanded that it has become meaningless as it refers to anyone who is to the right of the Corbynista project.
Khunt is a vile Marxist arsehole who defended nutty antisemitic radical preacher Louis Farrakhan when he was banned from the UK but now is along with Strapacoctomy the embodiment of selective regressive censorship that is leading us to a frightening Orwellian Police State where only those deemed to be on the "right side of history" in their crystal ball into the future are allowed freedom.
Nominated by Shaun