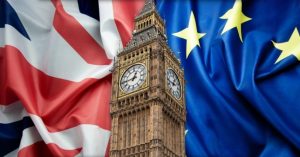 There's some miserable fuckers out there and no less so than the cunts who aren't going to allow Big Ben to ring out at 11 o'clock tonight as the Uk finally escapes the straight jacket of the Evil Empire.
Surely to Christ it doesn't take massive amounts of ingenuity to work out a way around the problem of ongoing maintenance on the clock tower preventing the bell from ringing? So they can't ring the bell. Well then, get a tape recorder and a fucking great amplifier. I'm sure our old mate Chas would lend them his 200 watt HiWatt stack and his iPod for the night…
And what about the £272,000 that was crowd funded after the first excuse that it was too expensive to ring that bell? Well, some good will come off that as it's going to charity.
Might I suggest that the Royal British Legion would be a suitable recipient? After all, they're representing the people that gave their lives the last time we fought to escape the clutches of Europe – although the French seem to conveniently forget that.
So at 11 tonight let's hang the washing on the Siegfried line, remind Varouka that it's a long way to Tipperary, cry God for Harry (well, maybe not the current Harry), England and St George and remind them they ain't getting our fish.
As Winston once said, it might not be the end of the beginning or even the beginning of the end, but at least it looks like it could be the end of the beginning…
Fuck 'em. Let' em eat cake!
Nominated by Dioclese
#bigbenbong #BrexitDay #bigbenbongban