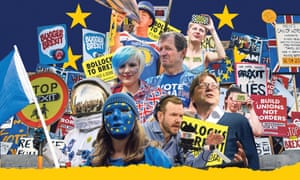 Hardcore remainers deserve a nomination. Heseltine, Adonis, Alistair Campbell and the usual suspects on "Soshul Meeja".
Sajid Javid has had a number of commemorative fifty pence pieces minted to coincide with the UK once again becoming an independent, sovereign nation. Cue much wailing, gnashing of teeth and whingeing from the above mentioned. "Harumph! You're rubbing our faces in it" they cry as they refuse to use it. Campbell has said that if he's ever in a shop and he's offered on of theses fifty pence pieces in change, he'll refuse it and ask for two twenties and a ten pence instead. How fucking immature and pathetic can they get?
Most remainers have accepted that Brexit WILL happen, and that there's nothing can do about it. However, there are some, mostly in the political sphere, who absolutely refuse to believe that 17.4 million British voters dared to show their patriotism and voted for the UK to leave the EU. And most them, as it turns out, have a vested interest in remaining, a financial one. The likes of Heseltine, Clarke, Adonis, Campbell, Mandelson, Soubry, Grove, Ummuna etc, are living proof that Remaining should be classed a mental illness.
To whinge about a fucking coin shows that they have long since lost the plot as far as Brexit is concerned. As for rubbing their faces in it, they deserve it. Despite their claims to the contrary, they have spent nearly four years actively working against democracy and, with the victories they've had, gloated about them. They are traitors and they deserve to have their faces rubbed in their defeat. I remember the undisguised joy they all showed when the Supreme Court illegitimately stuck its nose into a political issue and overturned the prorogation. Soubry even said after it, "suck it up". Well, now you cunts can suck it up. You've lost. You can deny that all you want, but it won't change the fact that you lost. The will of people WILL, finally be carried out on Friday and there's nothing you can about it. And if you really believe that the UK will become a financial basket case and global irrelevance, and you truly think that Brexit is an act of oppression, then fuck off. Hop on a plane, or a ferry, and go and live in one of your beloved EU countries. I'm sure Grieve will be happy to put you up in his chateau until you find a mansion of your own. If you're not willing to do that, change your nappies, jump back in your prams, put your dummies back in and shut the fuck up.
Incidentally, the Remainiacs are trying to get the EU's anthem, "Ode to Joy" to the top of the charts. Brexiteers are trying to counter it by getting Nick Frisbee's song, "Seventeen Million Fuck Offs" to number one instead. Let's do our bit and get Nick to the top of the charts. Just to rub their faces in it some more.
Nominated by Quick Draw McGraw