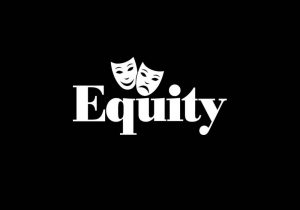 A timely nom for Equity please. Now we're all probably aware of this bunch of mincing pansies as the union for thesp types, but it seems nowadays they, like many of the wastes of plasma that constitute the intellectual wastelands of Twatter, consider themselves to be at the forefront of all the PC, woke, anti-waaycism bullshittery.
To the point where when actor Laurence Fox appeared on Question Time the other day and spoke the basic truth to this daft cow:
https://www.express.co.uk/news/politics/1229782/laurence-fox-question-time-meghan-markle-fiona-bruce
As she was trying to impress on him in her God-awful simpering manner, that good old Meghan is leaving the poisoned teat of the UK because of racism. Her reasoning? He shouldn't be allowed to comment because he is WHITE, proof if it were needed that in the minds of these simpletons racism is only a thing if it's directed at "people of colour".
Equity have seen the opportunity to get themselves some headlines, and have of course immediately denounced the witch and called on all of their good-with-colours members to make sure Fox never works again. Cunts one and all.
Nominated by Cuntan the Cuntarian