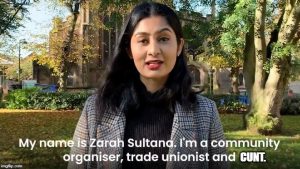 A gentle, nursery slope cunting with little stabilisers please, for 26-year-old (though she sounds all of 12) Zarah Sultana, who tried to instigate class war in Parliament by brandishing her student loan statement in front of the House, which amounts to £50,000 (she says.) She ought to think herself lucky that with a bit of creative accounting in the expenses department, she will get her debt cleared quicker than the poor cunts who studied with her and had to endure her little girl me, me, me voice every day:
https://inews.co.uk/news/politics/labour-mp-zarah-sultana-letter-student-debt-gavin-williamson-1370843
What a tiresome fuckwit she is (You can hear her on the Daily Express website in full flow.)
I am sick and tired of these kids who get to Parliament with zero life experience, just because they happen to be non-white. I certainly wouldn't stick my tongue up her arsehole for fear of all the bile and bitterness festering away in her butt crack.
Nominated by W. C. Boggs