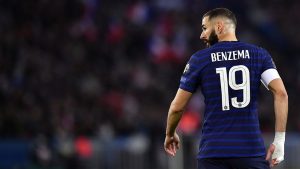 What a cunt! Not content with earning millions every year playing football for Real Madrid and France, this fucker decided to play the part of a north African gangster. Quite well too, I might get add.
Benzema is an Algerian who plays for France. He's one of the most successful footballers of his generation. More money than he could ever spend.
Yet this cunt has just been found guilty of blackmailing a teammate with the threat of releasing a sex tape. Benzema has denied everything (he says he was trying to help), but he was caught on wire taps letting slip that he was part of it. He was a long term friend of one of the gangsters.
While the other cunts involved got prison, Benzema got away with a suspended sentence. Good lawyers can buy your freedom, when you least deserve it perhaps?
Has he shown remorse?
Has he fuck. He's got his race card out and said that if he was white, he'd have been found not guilty.
Well, if he'd not been loaded and a national sporting hero of sorts, he would've been in a different predicament, perhaps.
What a fucking cunt.
Nominated by: Cuntybollocks