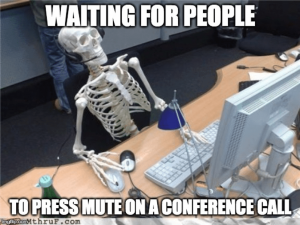 I'm looking to get back into the IT game and all jobs are remote with 1 day a week in the office. Luckily my last gig was dealing with a bunch of people located all over the country so plenty of practice for the 'new normal' of online meetings and remote working.
The thought of having to conduct Zoom meetings with a bunch of people you can either barely understand doesn't exactly fill me with joy. On top of that your online meeting is usually punctuated with video stream freezing, cunts with no sound or no video or just dropping out. Then there's cunts who turn up late and you have 'catch them up' the late, lazy cunts. Every meeting starts with 'Hello everyone. Can you hear me?'
And apparently as a manager its no use trying have a conversation with a group of people to arrive at consensus because it doesn't liberate the quiet ones. Now you have to design a 'narrative arc' beforehand like a NY Times Best Seller and facilitate better than the Commons Speaker with techniques like Lean Coffee and 1-2-4-All to get all the cunts to speak in turn without dominating the conversation.
Fuck this. Wish I could win the lottery. Maybe I should just become a Madame? Perhaps I could innovate the historic industry by having an e-commerce store where you can add your escort to basket, check out securely with Paypal and see all reviews on Trust Pilot.
Nominated by: Cuntologist