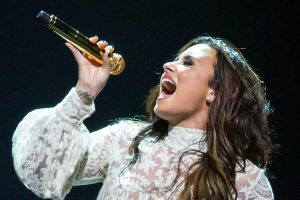 Demi Potato 🥔 needs another cunting!
It seems some good came out of the 'Deadpoolgate skulduggery' where it was brought to my attention rapper DMX is in a coma following an overdose!
A bit short of publicity of late and not wanting to feel left out, Demi Lovato has proclaimed she has been struggling with "survivors guilt" when hearing the news about DMX, after surviving her very own heroin and fentanyl overdose when so many others haven't.
Well, Demi, I concur! Given the look at me narcissistic nonsense you have constantly deluged the media with in the last month or so, I'm beginning to get survivors guilt myself, namely yours!
Fuck off!
https://www.msn.com/en-gb/entertainment/celebrity/demi-lovato-has-survivors-guilt-in-wake-of-dmxs-health-emergency/ar-BB1fpbVD
Nominated by: TheBestRevengeIsLivingWell
With an overdose supplied by Jessum Priest:
Recently in news of a rape at 7 years old, that simply didn't gain any traction, she's shoved herself in public time & again with one " weep for me " tale again & again. Now this!
Dear Dog, bore off.