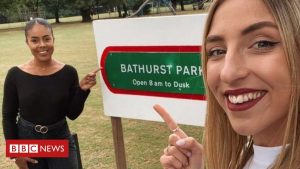 I cunted this half wit last year. She's the deluded fucker who tried to organise BLM horseshit in the Forest of Dean.
She's back, she's black and she's entitled to her shoulder chip.
But Khady felt that "no-one was talking about it" where she lived in Lydney, Gloucestershire.
"Outraged and upset", as the footage of George Floyd's death circulated online, she decided to organise her own local protest.
"I wanted to highlight this tragedy for black communities in the area I live in, where discussions about race and racial justice just don't happen," she said.
She lives in Lydney. Fred West territory. Deliverance territory. There is a very good reason racial injustice isnt discussed there. She is the only fucker there who isnt white and related to everybody else. There are no stabbings or gangs. They use pitchforks and fire to keep the peace.
She is determined to push the race card in an area where it is irrelevant. All opposition to her fucking madness is of course racist.
Surprisingly, she seems to be a single mother.
https://www.bbc.co.uk/news/newsbeat-57170386
Chiggun. Courtesy of the BBC of couse.
Nominated by: Cuntstable Cuntbubble