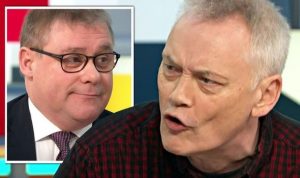 A 'bong! bong!' Big Ben cunting is surely in order for Remoaning Manc manic Terry Christian.
Many of you may not have heard of this gobby cunt, so let me quote to you from his Wikipedia entry, which delightfully describes him as an 'unknown English broadcaster, journalist and author'. Older cunters may remember him as the presenter of C4's 'yoof culture' show 'The Word' back in the early 90s.
Anyway, on a recent edition of 'Good Morning Britain', Christian made an absolute tool of himself, going into full-on 'Brexit Derangement Syndrome' rant mode. Included in his arm-waving tirade against Brexit were the now familiar wild Remoaner claims that the country's 'absolutely finished', 'how do we look to the rest of the world?', and that Leavers 'voted for it based on lies'. The buffoon went so far as to label the referendum result as 'meaningless', and tried to defend as a joke a tweet in which he stated that Brexiteers were 'pitiable saps' who deserved job losses.
During the course of this full-blown meltdown, the loony cunt hardly allowed fellow guest (Tory MP) Mark Francois to get a word in edgeways, and even managed to out-shout host Piers Morgan, no mean feat in itself.
Go on fellow cunters; click onto the link and relish the sight of a semi-coherent, democracy denying Remoaner shitweasel stewing in his own bile;
Terry Christian? Terry Fuckwitt* more like. Suck it up, Fuckwitt. Independence Day is finally here!!!!
Nominated by Ron Knee
* with apologies to 'Viz' comic.