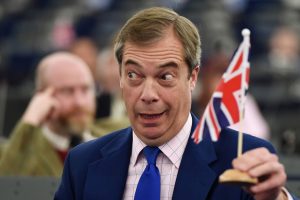 Now I'm the first to admit that I've never really been too convinced by " Sir Nig.", I always thought there to be something "spivvy" and opportunistic about him. However, to give him his dues,he has stuck to his guns through thick and thin…but is now the time for him to put the National Interest before his own personal hubris?
People need to accept that a "No-Deal" brexit is never going to be allowed to happen. Whatever people may think of Johnson's deal it's that or cancel the whole affair under a Lab/Liberal/SNP coalition Govt. which is liable to hold power if the Brexit Party splits the "leave" parties' vote in marginal constituencies.
Farage seems to be prepared to risk a Labour/Lib/SNP coalition seizing power,cancelling "Brexit" plus allowing Sturgeon to hold another referendum on the future of Scotland….dangerous times indeed.
Farage,if he really is the patriot that he claims to be,must put aside his unobtainable dream of a "No Deal" Brexit and throw his support behind the Tory Party or,if he can't bring himself to actively support the Tories must at least stand down his candidates in marginal seats. If not,he runs the very real risk of being remembered as the man who handed the levers of power to an extremely dangerous bunch of people.
Nominated by Dick de Pfeffel Foxchaser-Fiddler
I used to have a lot of time for Farage. Like him, I desperately want us out of the EU. At the start of the General Election campaign, he said the Brexit Party would not field a candidate in Conservative held constituencies if they entered into a non-aggression pact with the Brexit Party. Boris basically told him to fuck off, and what has he done? He has now withdrawn all Brexit Party candidates from Conservative held seats anyway, thus giving a huge amount of support to a party which is not offering a true Brexit.
I live in an area which has had a Conservative MP since before Jesus was born. However, at the Referendum, we overwhelmingly voted to leave the EU. At the last European Elections we voted for a Brexit Party MEP.
I truly believe a Brexit Party candidate could have given the Tories a run for their money, but I am not now going to get a chance to vote for who I was really looking forward to voting for. As there will be nobody else that I think is worthy of my vote, this will be the first election since I became eligible to vote (well over 30 years) that I will be staying at home that day.
Because of that, I am now firmly of the opinion that Farage is as much of a cunt as the rest of them.
Just been in the phone with Nige, and he pointed out this. https://www.henfieldhub.com/nick-herbert-mp/my-position-on-brexit , challenging him may split the vote in favour of an opposition majority and increase the chance of a poor brexit so he is being left alone.
Nominated by Robin Bastard