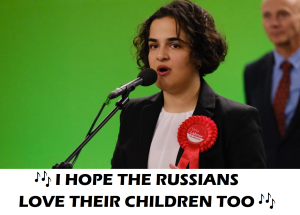 A cunting for the usual suspects from Labour.
Russia hasn't (as far as I know) fired a shot in Ukraine but Labour are banging on about fucking refugees.
For fuck sake, why would refugees from Ukraine want to come here when they have Poland, Germany, Czech Republic and Slovakia on the doorstep and Poland could take about a million to offset the Poles that have moved here.
The little cunt (Nadia) Whittome was at it today when Boris announced sanctions, talk about putting the horse before the cart.
As always with Labour, let's fill our country with other peoples problems.
https://www.dailymail.co.uk/news/article-10539669/Boris-Johnson-urged-welcome-Ukrainian-refugees-UK.html
Nominated by: Sick of it