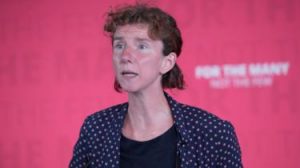 The irrelevance of the Labour Party.
'The last thing UK business needs in the current economic climate is a "chaotic exit" from EU trading rules, Labour's new shadow chancellor has warned.
Anneliese Dodds urged ministers not to put "ideology over national interest".
Never heard of this fucker but surely the dire straits we are in now should override yet more Remoan politicking. Give it a fucking rest until at least we see some light coming through.
BBC news headline, needless to say.
Nominated by Cuntstable Cuntbubble