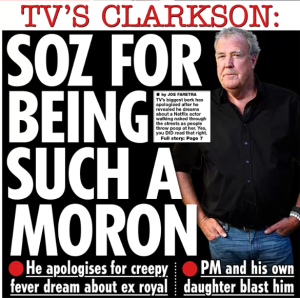 A cunting for the poor little darlings who got upset over Jeremy Clarkson and a rather well written piece about, who else, MeAgain.
It seems the reference to the game of thrones scene where the 'shamed' queen was forced to go through the streets naked and was pelted with shit didn't go down well.
Clarkson has issued a statement on Twatter, basically ooops sorry, will do better next time, fucking hilarious.
6000 complaints apparently, nice one Jeremy 👍
Nominated by : Sick of it