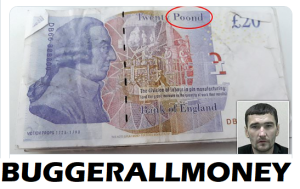 WILLIAM HICKSON is a dozy Geordie cunt.
Hickson was arrested in Newcastle with 41 £20 notes stuffed into his sock. Now I know that Geordie slang for 'pounds' is 'poonds' but as far as I'm aware Newcastle has yet to issue its own currency – so notes with a value of 20 poonds on them would seems to be a bit obviously suspect.
Amazingly they had to call an expert in to verify that they were forgeries.
Words fucking fail me…
Nominated by: Rt. Hon. Dioclese