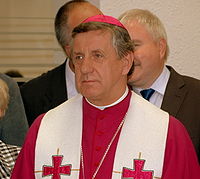 Archbishop Andrzej Dzięga is a cunt, isn't he?
God works in mysterious ways.
Archbishop Andrzej Dzięga, Archdiocese of the Catholic cunts in Poland, Chief Poobah of fairy Gobbledeegook, and wearer of ridiculous penguin hats recently said that Catholics should not only continue attending services, but also partake in the communion ritual. That means mingling with other credulous divits whilst also supping and slurping Jesus's blood from the same, shared cup.
Whaat? How come? Well, because "Christ does not spread germs and viruses".
Oh Lord, not another load of contaminated, soon-to-be-dead cunts. Yes, but acceptable as they're Catholics. Let's see how long those pews are chock-a for, shall we Andrzej?
Meanwhile in Rome, in a rather dramatic move, they've closed all the churches. Ah well. At least the kids will be safe.
Catholics: Whether they're gullible cretins, choirboy-diddlers, ignorant mooks, or kiddie fiddlers, they're always here to entertain us.
God was not available for comment because he doesn't exist.
Nominated by Captain Magnanimous