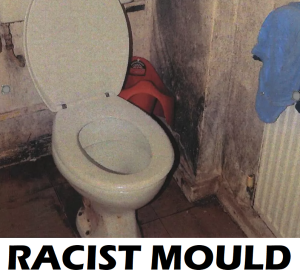 Right- this is NOT a cunting for this young lad.
It is a cunting for his parents, who have not come across mould and the causes of it due to them being just another couple of immigrants…this time from Somalia, where presumably fucking mud huts and a warm climate don't contribute to mould. Neither does having to worry about your hut having an indoor shower/bath, flushing toilet and water on tap. No sir……mould is alien to them. Until of course they come to the land of plenty where they are given a nice free property with all those water fed luxuries, which of course also can cause mould if you don't ventilate the property correctly. I have always found it peculiar that when you read a news story about someone complaining about mould, you just know it's going to be a council place. Why is it only council houses that suffer from mould? Or could it be the residents are in it all day doing fuck all with the heating cranked up, windows shut, with the washer/dryer going and some munter having her weekly shower?
What really pisses me off though, is the comments from the father (interpreted by the way, as they cunt can't even speak English) whereby he calls the council racist (didn't take him long to employ the narrative did it?) and basically doing nothing to help his family.
Ungrateful cunt..fuck off back to Somalia where mould is a luxurious dream.
https://www.bbc.co.uk/news/uk-england-manchester-63635721
Nominated by: Chuff Chugger
Seconded by : Cuntstable Cuntbubble
To add to Chuff's comments.
"Awaab Ishak: Mould in Rochdale flat caused boy's death, coroner rules"
Sad but:-
Mould can be dealt with.
Ventilation, not having wet clothes hanging about.
Opening windows.
A cheap spray which kills the spores and growth.
But no. They did fuck all.
These cunts were smothered in social workers etc who identified the problem, did fuck all to rectify it themselves. (Its the council's/housing association's problem) and now, undoubtedly with the help of some white woke cunt cry racism. In fucking Rochdale which is 50% Parking Stanley.
This child's death is 100% due to the stupid, non English speaking family. No doubt Somalia would have sorted it if they fucked off back there.