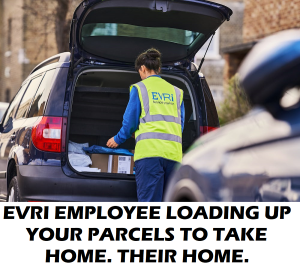 For anyone expecting a parcel to be delivered by this bunch of cunts, I wouldn't bother waiting in.
Having ordered a brand new pair of trainers from Converse at the beginning of the month, I waited with much excitement for the delivery guy to show himself on my doorbell camera. The alloted time slot came and went and then I received an email stating that my parcel had been delivered.
I checked the doorbell camera again. nope, no sign of any delivery. The email was accompanied by a photo of the delivery cunt allegedly delivering my parcel…to someone else's address. The fucking useless twat.
Refund sought and duly paid by Converse, I reorder my trainers. They are meant to be delivered today between 12:00 – 14:00. It is now 18:00 and still no sign of the Evri delivery cunt. That's two pairs of trainers that some thieving Evri driver has fucked off with and another from Australia that was meant to be delivered at the same time.
Go fuck yourselves Evri! I would advise every online retailer to avoid these cunts like the plague. Unless you want to be sending numerous replacements at your own cost, because Evri simply couldn't give a shit.
Nominated by : Odin