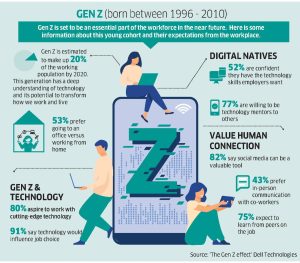 Remember the good old days when you showed up for work, put in a shift and then fucked off home? Well thanks to a toxic mix of a labour shortage and the selfish entitlement of Gen Z now entering the workforce exploiting the post-Covid 'new normal', those days are now over.
Companies desperate to hire and retain staff are giving in to ridiculous demands from woke Gen Z employees such as time off for birthdays, yoga sessions and pet bereavement leave.
This won't make a business more productive. Once you cave in to these demands and go down down the rabbit hole of appeasing these spoilt infantilised brats, like anything woke, it is never enough and more demands will be made. They will be paying them to get out of bed and a private taxi in next before they even set foot inside the office.
They seem to think every company should be like a Silicon Valley tech start up, lounging around on beans bags brainstorming and eating their hippie salads for a £100,000 a year.
The carrot and stick approach can be incentivising and produce results but fuck the carrot, these workshy bastards just need a good fucking clubbing.
Nominated by: Liberal Liquidator