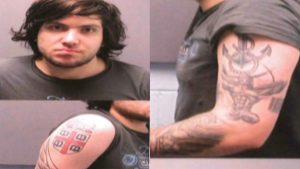 To call this cunt a Walter Mitty type of character would be an insult to his victims. He is no eccentric fantasist but a lying manipulative devious sack of shit, indulged by the Scottish legal system as we shall later see. First a bit of background.
A convicted sexual predator he went on the run from the U.S in 2020 after faking his own death as more victims of his crimes came forward, eventually washing up in Scotland as Arthur Knight, an Irish orphan. When in hospital after catching Covid-19 he was recognised by staff as being on an Interpol red notice.
This was a year ago and since then has used every trick in the book to deny his true identity. From speaking in an Irish accent so he did, to claiming his distinctive tattoos had been done in hospital while he was in a coma – I don't think the NHS offers free half sleeves….yet. Fingerprints were also taken by a nurse called Patrick and manipulated to match those held on file in America.
Why did it take a whole fucking year to see though this bullshit? Fingerprints, DNA, the tattoos or a background check on his alias Arthur Knight could all have been done in hours. The fact he sacked six lawyers, all probably funded by legal aid didn't help matters. Since this is Krankie McSturgeon territory where men are women, why didn't he just say he was a trans woman and couldn't possibly have committed rape?
Now the bleeding fucking obvious has been finally established, he has been approved for extradition proceedings to the U.S. Given that it has taken years for cunts like Julian Assange and a couple of Rotherham peaceful groomers to maybe be fucked off to America and Pakistan I wouldn't hold my breath on seeing this bastard on a plane anytime soon.
Nominated by: Liberal Liquidator