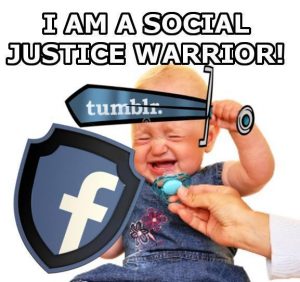 SJW Spewing Cunts: Twitter Twats, Tumblr and Trigger Twatacocktuses
What fucking bunghole did these annoying little pieces of feces crawl out of!?
How can we either flush them or make them crawl back-up one another's asspipes?
Particularly, the putrid puss-in-the-brain feminists and their male members of tyrannical Social Justice Wussbags.
"I agree with you snookums. Women are better than men."
Fuck you, and advance two wussy spaces to collect your official feminist pussy hat! You dickless mindless little automaton.
SJW syndrome is a mental disorder which effects all ages, races and genders.
White straight male: Hi
SJW: OMG HOW DARE YOU OPPRESS ME WITH YOUR WHITE MALENESS GET AWAY FROM ME YOU RACIST, RAPIST PIG, CHECK YOUR PRIVILEGE!"
White straight male: All I said was-
SJW: STOP HITTING ON ME! STREET HARASSMENT! RACISM! RAPE CULTURE! STOP RAPING ME! STOP OPPRESSING MY PEOPLE!
White straight male: What are you talking abou-
SJW: WHITE DEVIL STOP REPRESSING ME, RAPING ME! YOU PATRIARCHAL RACIST PIG!"
The whole whiny whinority lot of SJW's are nothing more than extremely narcissistic, naive, sheltered infants who never check any facts before making themselves look stupid, and then get so emotional they throw tirades and cry. It's pathetic. Society is doomed with this generation. Imagine what their children will be like!
And the older ones are just as bad if not worse especially, all of the professor pieces of shit and faculty fucks that encourage, support and create these little cunts. They should be the ones who have the shit kicked out of em, and then beat-to-shit again for making a mess.
Nominated by BluntCunt