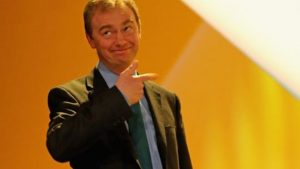 This Limp Dump Tim Farron cunt is a seriously deluded bastard!
A man who parliamentary party comprises 8 MPs seriously suggested this week that his party can provide a serious challenge to the Tories because they don't have a clue about Brexit. Farron, of course, knows all about Brexit which is why he thinks it would be a good idea and a vote winner to defy the will of the electorate and scrap the whole thing. Fucking twat!
Then, just to cap it off, he reckons that the bye-election result in Witney – where the Limp Dumps beat Labour into third place – signals their return to the big league of three party politics. Big three? Has the dim fucker never heard of the SNP? FFS his party has the same number of MPs as the Democratic Unionist Party and they're not suggesting they're in the top league at Westminster!
No, Farron is definitely living in a fantasy world – like Hitler sitting in his Berlin bunker moving non-existent armies around a map of Europe. Time he woke up, took the rest of his rump party with him and fucked right off, the cunt!
Nominated by: Dioclese