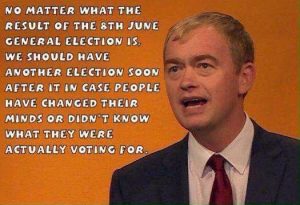 That weasel worded stratospheric cunt Farron is looking more stupid by the day.
After the referendum he really thought he could reach out to the 48%, so much so that he has run his election campaign on it. Unfortunately for little Timothy people have moved on and polls suggest that the 48% now sits at around 22% and the rest of the country just wants to get on with Brexit!!, so in effect he is fishing in an ever decreasing pool of potential voters!!
I can't wait to see the look on the pricks face on June 8th when as fucking dim witted a cunt as he is, even he will realise it's game set and match to the people that took a brave decision to say enough is enough!! That's when he will make an even bigger cunt of himself (if that's possible) by still refusing to accept the decision ..
Nominated by: Quislings