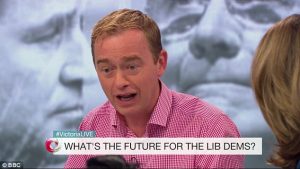 Talking of Rats extremist cunt (by which I mean he takes being a cunt to the extreme) Tim Farron is now saying that Brexit is the theft of Democracy and and an attack on our economy. The duplicitous cunt has done nothing since June 23rd except attack democracy and a real attack on our economy involves voting cunts like him into parliament and possible power. As Clegg proved the LibDems would sell their own kids to get a seat near the table of power.
What a vomit inducing piece of work he is….the cunt
Nominated by Sixdog Vomit
Please an emergency cunting for Tim Farron, I have been wiped out with the flu or some cunt of a virus. I finally get out of bed after being in the cunt for the best part of two days, eat some breakfast after not eating for a day put the telly on and that cunt Farron is going on about the 'single market' and blah, blah, fucking cunt blah. Apparently according to him his party are the ones who can represent the 48% and can pressure the government to get a deal for all or whatever. You can't help but notice his desperation to try and save the Lib Dems who are a total fucking joke after that even bigger cunt Clegg lied about tuition fees etc and joined up with the Tories which is an even bigger joke considering their differences as parties. Anyways Tim Farron is a cunt who needs a kick in the bollocks everyime he mentions Brexit, the single market, or the people didn't get a vote on the direction we are taking. Fuck it he needs a kick in the bollocks before he attempts to say anything.
Nominated by Black and White Cunt