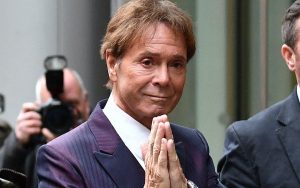 I must confess to feeling a degree of sympathy of late for 'The Peter Pan of Pop'. I mean, it must have been a laugh a minute having the scuffers raid your house on the basis of sexual abuse allegations made against you (unsubstantiated, and very likely bogus, it seems). To add to the fun, you had the Beeb avidly filming events to splash across the national news, apparently acting on a tip off from the cops at that. It sounds like the stuff that prolonged and hellish nightmares are made of, and could have been the fast track to ruin. Still, no case was ever made, and you sued the rozzers and the Beeb and won, earning apologies and a nice piece of change in the process. Fair play on that one.
I have to say however that my sympathy has entirely evaporated since learning that you're now staging a '60th Anniversary Tour'. What the fuck? Now it may be that some geriatric biddies will moisten the front of their incontinence pants watching you trying to gyrate your creaking hips, but I'm afraid that it's a big fat 'meh' as far as the rest of us are concerned. Spare us the embarrassment, and yourself the risk to life and limb. People at our time of life need to exercise a degree of caution. If things get a bit exuberant as you wheeze out such all time greats as 'Congratulations' and 'Devil Woman', you could easily slip a disc, and that's some serious grief, I can tell you. If things really were to go tits up, you might even do a Tommy Cooper and cark it on stage, and your selfishness would have deprived us of a 'national treasure'.
Seriously, why are you doing it? You really can't need the money. I heard that you've got a swanky pad in the West Indies or somewhere, so why not retire quietly and gracefully, put your feet up, and enjoy the sun? It's what any other coffin dodger in your enviable position would do.
(Oh and a word in your shell like by the way. Nobody believes that your hair is really that colour).
Peter Pan? Down the pan more like, if you don't turn it in. Stop being a fanny and get a grip.
Sir Cliff Richard is 77.
Nominated by Ron Knee