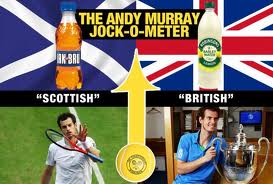 Andy Murray is a cunt. But at least he's prepared to proclaim himself a Scottish cunt. Not British. Scottish
What about the cunts who pretend to be British? Zola Budd (South African), Greg Russedski (Canadian), Kevin Petersen (South African).
And 61 members of the 2012 Olympic Team GB : Mo Farrar (Somalia), Jessica Ennis (Jamaica), Yamile Aldama (Cuba), Michael Bingham (USA), Shana Cox (USA), Tiffany Porter (USA), Shara Proctor (Anguilla) and many others.
Bradley fucking Wiggins was born in Belgium. Laura Robson was born in Australia of Australian parents. How does make her British?
Could it be that they had a better chance of selection by crawling to the desperate British team? Medals at any price? Sad cunts.
Even Cliff fucking Richard was born in India. Winning Eurovision doesn't make him British.
Murray may be a cunt – but at least he's an honest cunt.
Nominated by: Seb Coe's other half