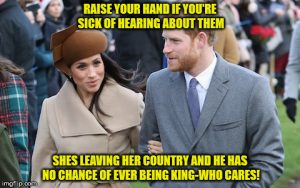 A grace and favour, Land of Hope and Glory cunting please for these two up-their-own-arses, very minor Royals, who are so desperate to be seen as 'ordinary' that their arse-licking flunkies have given their new neighbours advice on how to behave in the presence of their Royal Wankers:
https://www.thesun.co.uk/news/9594704/meghan-markle-prince-harry-archie-list-neighbours/
Who do this pair of nonentities think they are?. He tries to look like King George V with his beard and imperial manner, and she is just a two bit actress, who, if she still had to work for a living, would be lucky to get a recurring role in 'Emmerdale Farm' as a dairy maid, and would forever live in fear of the day a new producer got rid of her and she was reduced to appearing on 'Loose Wimmin'.
The hypocrisy of this pair of talentless cunts is staggering. They contribute little and take far too much. He is David Beckham without the talent and she is Kerry Katonia without the charm.
I think Harry's dad, the Major, ought to take him in hand and remind him what a lucky little bastard he is – literally.
Nominated by W. C. Boggs