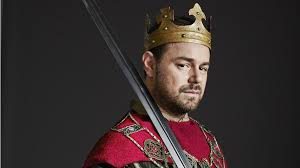 A cunting please for Danny Dyer.
Since discovering that he is descended from Edward III and William the Conqueror, Dyer ( or HRH Prince Danny Duke of Cunts as he is now known) has become an insufferable knob head. It got worse when he discovered that he was also descended from a saint, in this case King Louis IX of France (later canonised as St Louis).
Dyer was a remainder cunt before this, raging over Cameron's decision to hold a referendum on the EU. But know he knows he can cure scrofula with his royal touch he gone overboard, even announcing that Shamima Begum may return to the UK to receive his royal forgiveness.
What this cunt has forgotten is that nearly every one that can trace their family history back more than 700 years will find a king or two in their family tree.
Fuck off.
Nominated by Marvellous Mechanical Cunting Machine