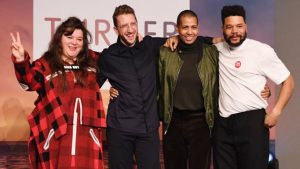 A five-alarm, socially conscious cunting please for The (fucking) Turner Prize
Ffffff… fffffff…. ffffff… and breathe… Facking hellski my piss boileth over. Just sat through Beeb4's coverage of the (fucking) Turner Prize 'awards' and what an unalloyed, truly emetic display of virtue signalling jiggery-wokery it was. Normally, despite a passing interest in such things, I'd forgo the pleasure with an accompanying stream of invective hangs its ulcerous arse out the window and invites us to kiss it but this year, given the societal tumult that's currently gestating, I thought "hmmmm I wonder… they're gonna pull a stunt this year I'll bet?" and put down the remote, cracked a tinny and braced m'self. I was not disappointed as The (fucking) Turner Prize (and god I bet old Turner is revolving axially in his grave that his name has been so appropriated) supplied big steaming sacks of cuntery by the hundredweight.
The Turner Prize has always been a vehicle for degeneracy in both the production and public perceptions of 'art' and what constitutes art. From its origins when Duchamp waltzing into a gallery with a piss trough to that shaved ape Ofili throwing elephant shit at a canvas it's whole purpose has been to discount and reposition all prior art as reactionary, jingoistic remnants of dying empires. So what was offered up this year to delight the liberati and simultaneously baffle the rest of us?
Lawrence Abu Hamdan – is an artist and audio investigator, (I'm sorry?? He's a what?) whose work explores 'the politics of listening' – Oh fer fuck's fucking sake 'ere we go. His installation entitled "Earwitness Inventory" should more accurately be called "Fuck me some cunt's robbed the garage!"
http://www.tate.org.uk/whats-on/turner-contemporary/exhibition/turner-prize-2019/lawrence-abu-hamdan
Helen Cammock – "The Long Note" – Filmic, feminist niggerwhine…enjoy.
http://www.tate.org.uk/whats-on/turner-contemporary/exhibition/turner-prize-2019/helen-cammock
Oscar Murrilo – Collective Conscience (ffs!)- Oscar Murillo's multifaceted practice incorporates live events, drawing, sculptural installation, video, painting, bookmaking and collaborative projects with different communities. In his work, Murillo particularly explores materials, process and labour; as well as issues of migration, community, exchange and trade in today's globalised world. – Yes yes Oscar but that does not excuse the fact that your ACTUAL artistic skill tops out at that of a ten year old stuffing a guy fawkes for the bonfire. You fraud, you chancer, you unmitigated cunt.
http://www.tate.org.uk/whats-on/turner-contemporary/exhibition/turner-prize-2019/oscar-murillo
Tai Shani – DC Semiramis – Shani "uses the structure of an allegorical city of women to explore 'feminine' subjectivity and experience, through a gothic/science-fiction lens…" gotta stop you there luv mainly because I can't be arsed to fisk the rest of this drivel suffice it to say this animate tableaux of sub Dalian linear and morphic forms prompts the following question – Tai, do you always neck a microdot before you take your kids to Wacky Warehouse?
http://www.tate.org.uk/whats-on/turner-contemporary/exhibition/turner-prize-2019/tai-shani
So who won then, Cunty? We're dying to know who'll be setting the nation's artistic trajectory over the coming year.
I'll tell you who won; like a special needs sports day (on reflection a pretty close analogy), they all did… yayyy! They decided that because they all sing from the same hyper-liberal hymn sheet they should form a collective and accept an award only on that basis. They chucked the sheboon front and centre to read their grandstanding, dribbling collective statement, the text of which I'm sure will form the editorial opinion and comment for every fucking newspaper for the next week if they don't reprint the fucker in full on a giveaway centrefold poster. Expect this to be the Thunbergite groupuscle for the 'art' world. Expect a ramping of their commercial exposure. Expect them to last no more than 2 minutes on a gallows rope.
But here's the kicker: the programme that followed this open mockery of all that we would legitimately recognise as "Art" was an hour long documentary on Rembrandt, the very antidote to this spasticated travesty.
Nominated by Cunty Chops