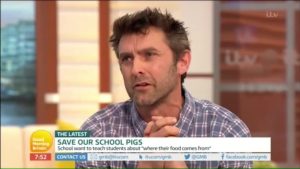 Furious vegan parent Vincent Cook (sic) is outraged that Priestland's School in Lymington, Hampshire allowed students to rear four pigs and then planned to send the animals to slaughter.
The school was presented with the piglets in order to teach students how to "fatten up pigs for slaughter".
Cook says the pigs should be sent to a farm or sanctuary ignoring the whole point of the exercise and that they are actually being returned to their owner because the school never owned them in the first place!.
Typical minority cunt pushing his own personal loony agenda. Needless to say e-petitions and Twatter storm result. Plus TV appearance on GMB where Piers Morgan ripped him to shreds.
Go munch a carrot you daft cunt…
Nominated by Dioclese