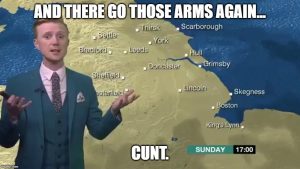 I'd like to give this regional weather reporter a fuckin' good cunting.
Now, he might not be known by many and that's why a quick look at the clip below will put you in the picture:
https://ilovemanchester.com/bbc-north-west-tonight-weather-presenter-owain-wyn-evans/
This notorious shirtlifter is also known to people in Yorkshire and the Midlands. He's a fuckin' mincer of the highest order and makes Tom Allen look like Charles Bronson. When he's giving the forecast, his fuckin' arms are waving all over the place.
He said "I do camp it up sometimes doing the weather, but I don't even notice I'm doing it, when I'm waving my arms around".
After reporting on a Fun Run, one of the other presenters asked him would he join in to which he replied "I can't really run". You would you cunt, if I stuck this red hot poker up your arse. And don't stop till you and your boyfriend get back to Wales where you can wait for the next cold front to kick you in the cunt.
Nominated by Bertie Blunt Ubercunt