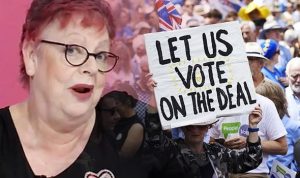 JO BRAND
An outsize bloomers, with generous gusset and Tena-lady of industrial proportions protection please for *former psychiatric nurse* and now raddled elderly alleged *comedian* who is about as funny as bowel cancer, Jo Brand, who feels that we should have a fucking second referendum, just because SHE *wants it*
https://www.express.co.uk/news/uk/1058783/Brexit-news-Second-EU-referendum-Jo-Brand-BBC-Question-Time
How typical of these up their own arse very minor "celebrities", especially one as coarse as her, a lefty, rough as a badgers arse, that we should indulge their stupid whims.
No doubt the elderly hag, nearing the end of her piss-poor "career", said that to encourage another cheap round of applause from a BBC audience who are almost as deranged as she is, but why is it that this ugly old lezzie lookie-likey, is allowed to appear on TV, even after the watershed, without wearing a burqa?. She looks as if she encounters soap and water twice a year at the maximum, a dirty smelly old cunt who probably smells like a tin of opened dog food that has been left at the back of the fridge since the start of the year, and whose face looks like piss flaps wearing glasses. I can't believe even a sex mad rapist who had been locked up without female company for 30 years could contemplate fucking this old cunt. Imagine having to remove the drawers with three week old skid marks on them. Her arse is probably hairier than a Shoreditch hipsters beard.
Because Brand wants a 2nd referendum, as does the revolting Gina Miller that is two good reasons to make sure their ambitions are as frustrated as their unused and unusable sex organs. An over randy Rottweiler is probably their only hope of a fuck, then only if their minges are smeared with Pedigree Chum.
Only the BBC would be daft enough to waste money employing this repulsive looking piss artist.
Nominated by W. C. Boggs (apologies for originally forgetting WCB – I was in a rush when I did this one).