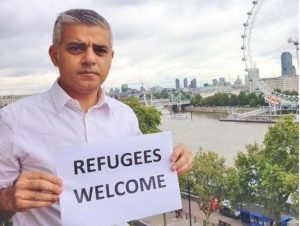 Our dear old friend Sadiq Khan wants London to have a seperate immigration policy to the rest of the UK post brexit. No! The political and media ellite already think London is not part Britain but they are all so wrong. London will have exactly the same laws as the rest of the country, thank you very much Mr. Khan.
What next? Sharia law, legalise kiddy diddling and FGM to bring Londonistan more into line with the rest of the islamic world? Fuck off you cunt.
Nominated by: Skidmark Eggfart
Our dear old chum Sadiq Khan needs another cunting. This time for blowing £39,806 of London tax payers money on a trip to the USA to denigrate Trump and show strong Support for Clinton. It was supposed to be a trip to meet business leaders and assure them that London is open for trade, despite those horrid Northern monkeys voting for brexit.
Sadly the little paki cunt took every opportunity to signal virtue by criticising Trump and praising Hillary, thereby essentially campaigning for Clinton.
I really hope Trump wins, if for no other reason than to see the mad mullah mayor of Londonistan squirm while eating a huge slice of humble ( pork ) pie. Cunt.
Nominated (again) by: Skidmark Eggfart