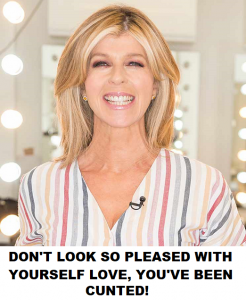 I would like to nominate Kate Garraway for a cunting.
This is due to her being so desperate for publicity she will do anything, exploit any situation, say anything, do anything, use anyone's situation to get her face on the telly or name in the papers. It looks like she is going to take Katie Prices crown for media whore.
Hubby has chinky bat flu, 30 opportunities to get in the news. Car crash 10 more and counting. This fucker is going to be ear fucking us for years at this rate. So KG, you are an attention seeking cunt. Fuck off….

Nominated by: Fuglyucker