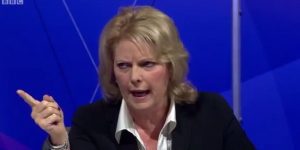 A quick emergency cunting for the poor post menopausal minging remaining cunt that is Anna Soubry.
Every fucking week she's on the biased news that is BBC moaning and whinging about how to stop Brexit, I swear if she could she'd launch a terrorist attack against leavers, she's such a world class cunt .
She always looks like she's in need of commitment to a mental institution. She's seriously fucked up .
Even today she's back on the news with Cunty Ummana. Yep on the good old biased BBC again with her plan to stop Brexit .
Fuck off Anna we all hate you . Go live in Belgium or on the fucking asteroid that nearly just hit us .
Nominated by Cunt Care Less