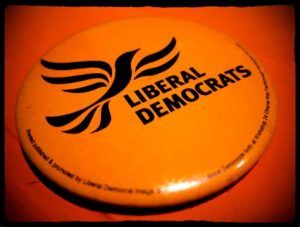 Liberal Democrats. Or liberal un-democrats.
What a fucking cunt of a party.
Sat outside all smug outside the polling station like nothing has happened.
After I voted I gave her a very good piece of mind, to which she just replied 'I have an entitlement to an opinion'.
Whilst ignoring the opinion of 17.4 million voters.
The venom I feel for this party makes my blood boil. After telling her in no uncertain terms she should fuck off and if I had my way she would be off to the tower for treason, her heavy mob came outside.
What a nasty undemocratic party they are. Ignore any opinion other than their own.
For anybody who voted in the European Elections and saw any of these parties who have subverted the course of democracy canvassing outside your polling station, I hope you made sure you gave them a piece of your mind, but after you have voted Brexit.
Cunts.
Nominated by Speakyourmind
(At least that cunt Cable resigned as well as May. Maybe he thought if he did it the same day, nobody would notice. Nobody would have noticed anyway)