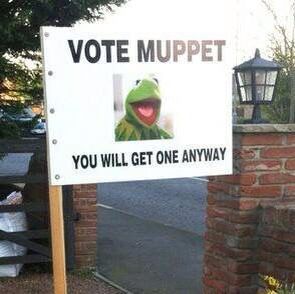 This is not so much a cunting as it is a playbook – should any of our common sense contingent get approached by, or have chance to deal with, any party campaigner or – even better – candidate.
It does not matter the party, or colour of the rosette; it is universal because they're all a pile of wank!
No matter what they say…
"The Conservative Party pledges £129bn for the NHS, 100,000 new homes over the next 10yrs, 2,000 new schools, and and an extra lane on the M1 and M6!"
"The Labour Party pledges £139bn for the NHS, 200,000 new homes over the next 10yrs, 3,000 new schools, and and an extra two lanes on the M1 and M6!"
"The Liberal Democrat Party pledges £149bn for the NHS, 300,000 new homes over the next 10yrs, 4,000 new schools, and and an extra three lanes on the M1 and M6!"
Sincerely agree with them and then say this: "That's fantastic, and I will vote for you/your candidate if you will answer the following simple question honestly: Why? And while you take a moment to think about it let me explain that the birthrate of the indigenous peoples of the UK is currently at 1.8, which is well below the replacement rate of 2.1, a difference which also more than cancels out the fact that people are living longer in general. So, if the indigenous population is not increasing, what is necessitating this massive spending bill that will invariably cause huge tax hikes? To reiterate my original question: Why?"
If it's a Tory pleb then they may mention Priti's plan to decimate immigration (a plan that is also being backtracked on already).
If Lib/Lab then they're likely to blank you and fuck off without another word (after the gooning smile has left their smug faces).
If you get chance – and I pray you do – state the above reasonably and pleasantly (give them no reason to brush you off as an angry zealot/bigot/whatever) but above all else, make sure plenty of people hear you, and – more importantly – your question.
The party campaigner's/candidate's reaction/response will be all telling.
Let the cunts squirm. THEY (the 600 green leather arse polishers) are the reason this country is falling to bits. Only THEY have the power to affect change, and yet THEY remain complicit in our destruction, and the destruction of our way of life, all whilst favouring those from without at the expense of those from within. It stinks!
Cunts!
Nominated by Rebel without a Cunt!