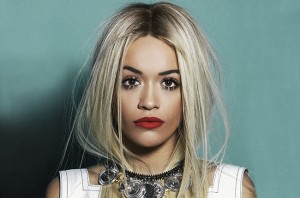 Rita Ora is a cunt…
This tuneless bint is basically (like Rihanna. Cyrus, Perry, Minaj etc) another slag masquerading as a singer. She will do any old crap if the money is right (how else can you explain appearing on both The Voice and The X-Factor? Ora is another one who flashes the lot and does suggestive videos, then complains about the press not respecting her or her privacy.
Then there's the whole Cara-Delevingn (another cunt!) being her 'Wifey' and other such cod-chav bullshit. Not to mention her seeing off more blokes than World War I (That Calvin Harris would shag anything, and he does!)
I remember when female singers and musicians had a bit of brains and substance (Laura Nyro, Kate Bush, Joan Armatrading being some of them) but now female popular music is just one big peep show with a very crap soundtrack, thanks to the likes of Ora and all those other twerking tarts…
And she looks (and sounds) like Sy Snootles from Jabba The Hutt's house band.
Nominated by: Norman