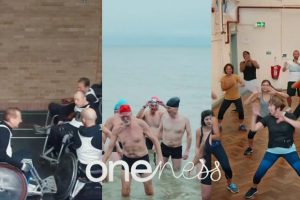 Taken from bbccreative.co.uk
"BBC One is the nation's favourite channel, and its role is to bring people together. So we celebrated this by commissioning Martin Parr, one of the most celebrated documentary photographers of our time, to create idents that represent the rich diversity of communities living in the UK today"
I will tell you this boy, I will tell you this. First of all every cunt ah huv' ever met despises the commie BBC, maybe the fuckin' Hamilton Accies doon at Govanhill like it but ah don't associate wi' they smelly cunts. "Bring people together" HA HA FUCKIN' HA – the fascist globalist cunts at the Beeb are dividing more people than the SS at fuckin' Birkenau.
"Rich diversity of communities living in the UK today" – call me a cynical old cunt but before they stabby bomby cunts started to infest our lands weren't we a community? Very tellin' dae ye no think so? As fur rich diversity, would that relate tae oor white trash daughters gettin' groomed, turned intae junkies, raped tae fuck an pimped oot? Or maybe the diversity bollards that now adorn our Christmas markets tae stop some raghead cunt fae knockin' us over like fuckin' skittles? FUCKIN' CUUUUUNTS
Words cannae describe how much these cunts boil ma pish wi' these sanctimonious Oneness skits. Ah never watch the BBC and hate the cunts wi' a passion but sometimes ah get unlucky cos Mary Doll is watchin' Eastenders or some shite when ah roll in fae the Two Ways pished oot ma tree.
Fuckin' Oneness yer huvin' a fuckin' giraffe ya cunts. The cuntry is mair divided than ever before, partly thanks to these Marxist thundercunts at the BBC drip feedin' their shite an onions tae the deluded arseholes that watch it. As soon as ah see they wee diverse fuckers in the U7s football team or a bunch ae spastics playin' rugby in fuckin' wheelchairs or some sad cunts climbin' up some hill in the middle ae fuckin' naewhere ma pish starts tae boil.
But see when the cunts all stop whit they're dain and look at me like ah'm a useless deadbeat alky ma bottle of Bucky goes through the fuckin' telly every time. CUNTSSSSSSSSSSSSSSSSSSSSSSSSSSSSSSSSSSSSSSSSSS
Now if ye'll excuse me, me an Gash are away on the rob tae git another fuckin' telly.
Nominated by Rab C Nesbitt