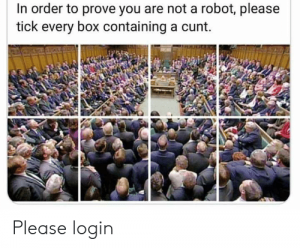 People that think recaptcha is appropriate are utter unredeemable pitiful cunts.
The football team I support just won a football match. I want to post on their official forums, share my love for the team, acknowledge their tremendous achievement. But no! To register I have to help Google train their AI to recognise a fucking street sign.
It wouldn't be so bad but I'm assessed against their current AI model and a whole swathe of fuckwit Americans, which means that accurate street sign identification isn't what they're after. No, to register to post on a forum I have to accurately guess what some mutated inbred fuckwit American considers to be a street sign.
I could almost handle that. Almost. Except that to contact any company, regarding anything, I have to fill in a fucking recaptcha. Am I human? It doesn't actually fucking matter, all that matters is that I spend my time and energy training Google's AI to make the same fucking mistakes that the American public will make.
Fuck this anti-person technolgy, fuck Google and above all, fuck the cunts that think it's reasonable to fuck over their customers, their supporters and any cunt trying to contact them by imposing such a nonsensical cuntish fucking waste of time, brainpower and energy on them.
Nominated by Quivering Quim