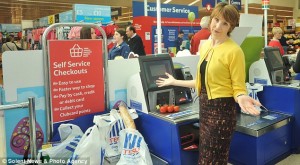 And can I nominate for a truly epic cunting "self service" checkouts in supermarkets. Devices worthy of Lucifer himself, designed to get the "valued customer" to do a minimum wage job as checkout operator for fucking free with the added bonus of pushing your blood pressure into the lower stratosphere!
Nominated by: Mr Angry

Self-service checkouts don't even successfully cut out the need for staff because you always have several staff members lurking around to assist with the inevitable and frequent self-service fuck-ups. Add their hourly wage to the increased losses from shoplifting and is there really much of a saving?
Nominated by: Fred West