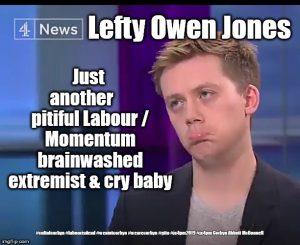 Another cunting for Owen Jones.
Jones had the shit kicked out of him last night that and many I'm sure will be saying about time. Due to him being an egotistical arrogant prick, I'm sure there is a long queue of people ready to give him a twatting.
Anyway, he had his head kicked in, ( whoever they were, pints on me) and how does he and the media report on it? In an attack he called "a blatant premeditated assault", Jones said he was kicked, punched and thrown to the ground by a group of men in the early hours of Saturday morning. He said that he and his friends went to a pub and left at 3am. "We were about 30 metres away, saying goodbye to each other, when four men charged directly towards me: one of them karate kicked my back, threw me to the ground, started kicking me in the head and back, while my friends tried to drag them off, and were punched trying to defend me. (I wonder if their is CCTV footage, I'm sure there would be a huge demand for the bootleg DVD of this.)
"It was clearly a premeditated attack and I was their target. They all attacked me and only assaulted my friends when they tried to defend me.
"In the past year I've been repeatedly targeted in the street by Far-right activists, including attempts to use physical assault, and homophobic abuse.
Straight away his liberal cunt friends jump on the bandwagon as Corbyn Steptoe said that the Far-right are on the march in this country. Please tell me where this is happening? With no evidence or reason why he was attacked, (although I'm sure it might of been because of his mouthy cunt face) it was because of his activism and being a journalist (is that what he calls himself). How do we know he wasn't attacked because of his usual mouthy, up his own arse self and for once karma got him good? The media reports about this incident as evidence of the Far-right and increase in violence. No mention of the violence from the left because no way would they resort to this kind of thing.
Cunt face Jones further shows his usual 'I'm a victim', self centred righteousness:
"To the comments telling me to take time off: I know it comes from a good place, but I'm not cancelling my work commitments because of these thugs. Straight back to work, same routine. I'm not rattled, and I'm going to very publicly show that".
He really is milking this to the best of his abilities. I really hate this British, Brexit hating prick. I'm sure this incident will provide many more delightful articles from him and his Guardian middle class, libturd friends about the increase in the Far-right and thuggery and how Brexit is the cause, blah, blah, blah. Many people go out on the town and sadly are assaulted for many reasons sometimes because people are bladdered, but don't go using this to try and spin a narrative of the Far-right.
This is why we have Brexit… because of arrogant tossers like yourselves.
Nominated by Jason