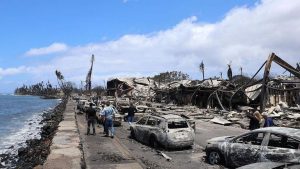 Cunters may be aware that the Hawaiian island of Maui has recently been devasted by wildfires, causing loss of life and great damage to property and the livelihood of the islanders.
Still, the people of the island should be of good cheer, for help is at hand. Those two sterling humanitarians, Oprah Winfrey and Dwayne 'The Rock' Johnson, have set up 'The People's Fund of Maui', and recorded a passionate appeal for Joe and Jane Citizen to put their hands in their pockets and send money to help the Maui residents out.
Now okay, Oompah and 'The Block' have pledged $10 million themselves (don't know if they've actually donated it yet), so that seems pretty generous, doesn't it?
But hold up. Estimates of the combined wealth of these two stand at an eye-watering $3.3 BILLION. That's right; three point three thousand million dollars. On top of this, Oompah has been buying up land on the island hand over fist, and now owns c. 1,000 acres (an area larger than the size of Central Park in New York) which reputedly has its own private fire-fighting force.
Fucking hell, these two could easily fund a whole rescue package between them from down the back of their sofas. Come to that, why aren't they hitting on their billionaire pals like Musk and Gates, and their megarich Hollywood friends, instead of trying to bilk ordinary people already grappling with the problem of making ends meet due to inflation and recession?
Nah. Better to do a spot of very public virtue-signalling instead; you know, show the world that you're just a couple of ordinary dudes who are there and 'doing what we can'. Go on; demonstrate to us that you're all heart.
Well, I say that you're just a couple of image conscious slebs pouring more lubricant onto your already well-oiled publicity machine, and I call bullshit on the pair of you.
Cynical? Moi?
https://www.youtube.com/shorts/mB0BY3QxNcQ
Nominated by : Ron Knee