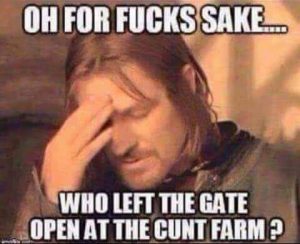 HOW TO NOMINATE YOUR CHOSEN CUNT:
Use the comments section below to write up your cunt for a nomination.
We won't write your cunt up for you. If you can't be fucking bothered, neither can we – so don't be a cunt by submitting a one liner
The admins will review this page periodically and will either :
1. Post your nomination immediately
2. Schedule it for posting later
3. Decide it's not appropriate!
After reviewing the nomination, it will be deleted so when it disappears from this page then you know it's been actioned.
Please don't reply to the comments below unless you want them to be included in the post as when the top level comment is deleted, sub-comments added under it will disappear as well.
This system makes it easier and quicker to find nominations and for admin to control them. The site receives several hundred comments a day as it's a chore ploughing through them all. It should also help keep comments on the front page on topic.
LET'S GET CUNTING!
*** UPDATE ***
Posting in all lower case triggers the spam filter and automatically consigns your comments to oblivion!