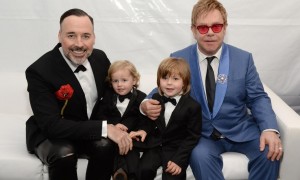 Elton John is one of those irredeemably odious shitbags who can never be cunted often enough.
Now the fat little attention-whore has lashed out at fashion designers Dolce & Gabbana for describing the process of gay couples using IVF to create their own families as "synthetic". Fat Elton had a major hissy fit (on Instagram, where else?) interpreting their remark as a personal attack on his own two children. Both of whom happen to be boys, incidentally. So obviously no engineered sex selection there then, never mind the fact that it's highly unlikely that either Fat Elton or his partner were able to provide the eggs. Synthetic? Of course not – it all sounds 100% natural to me.
In a telling insight into Fat Elton's views on freedom of speech (and it was merely a personal opinion being expressed, D&G weren't denying the Holocaust), the talentless has-been called on the world to boycott Dolce & Gabbana because of this. Why stop there though? I thought Fat Elton had boycotted the entire fashion industry many years back: there can be no other explanation for why this short, fat, bald, old man continues to dress as though he's really a tall, slim, thirty year old with a luxuriant head of hair. Maybe it's an inverse form of Body Dysmorphic Disorder? If so, I've heard it can easily be cured by taking a huge quantity arsenic, washed down with a litre of Domestos.
At least Domenico Dolce had the style, grace and good sense to go bald naturally, Elton. At least there's nothing "synthetic" about what's on HIS head, you fat cunt. You look like a cunt, you dress like a cunt, you sing like a cunt, ergo you ARE a cunt. Now kindly fuck off and hang yourself.
Nominated by: Fred West

Well, how about that! Victoria Beckham has joined in Elton's tirade against D&G. Nothing to do with the fact that she owns her own fashion house, of course. That would be just opportunistic hypocrisy, wouldn't it?
The Johns and the Beckhams – four cunts for the price of one…
Nominated by: Dioclese