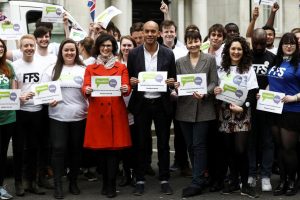 I would like to nominate everyone who is insisting that we need a second Brexit referendum (because they are not at all happy with the result of the first one).
Today Lord Kerslake, said that "if the government was unable to strike a deal with Brussels, there would have to be a pause" in the Article 50 process under which the UK will leave the EU on 29 March 2019". He went on to say that in those circumstances, the European Commission would likely insist on some "re-examination" of the 2016 referendum decision to leave. "The consequences of a no deal would be so serious as I think Parliament would have to seriously consider whether it could contemplate this," he said.
"The question people need ask themselves is: is this a risk that they think we should be taking? If the government can negotiate a good deal, then so be it.
But if they can't and we end up in this position, then we have to reopen the question of whether we go forward with Brexit at all. It is not too late to do that."
Well my old mucker Kerslake, it was absolutely clear to absolutely everyone that the unelected cunts at the EU never wanted a deal, so the only option is to leave without one. We do not pay them any money and simply walk away. They had the chance to be reasonable and grown up about things but decided instead to be vindictive arseholes to a country that they should be thankful to.
As an unelected cunt in the house of Lords who the fuck are you and what gives you the right to tell the nation who voted to leave the corrupt and frankly ridiculous European Union that they got it wrong? Stupid little turd..
Also today millionaire twat Superdry co-founder Julian Dunkerton (who has pledged £1m to the People's Vote campaign) said "we have a genuine chance to turn this around".
No you stupid cunts- we have already had a referendum and the result was TO LEAVE. The question was not ambiguous and both Conservatives and Labour said this meant leaving the single market and the customs union.
Article 50 has been triggered so we MUST now leave, either with a deal or with no deal. And if you remember, the unelected wankers at the EU threatened us unequivocally (just before article 50 was eventually triggered) that
Article 50 is irreversible. Why must there be a pause? Think you just made that up. Cunt.
Fed up with the Remain fuckers now- have really had enough and they are becoming tiresome. Nigel- really don't know how you managed to keep your sanity over the last 20 years. But glad you are back on side.
Nominated by willie stroker