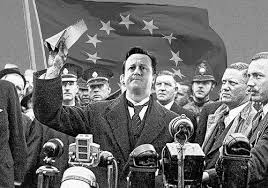 David Cameron is my nomination. Possibly a little obvious, but still, he deserves it. Despite having spent months flying all over the EU to "renegotiate" Britain's membership of the EU, he has today confirmed what those of us who aren't rabid, braindead Europhiles have known for the sometime. His "deal" with Brussels is worth far less than a 3 week old pile of dog shit.
Apparently, part of this deal is that the UK now has a 'Special Status". Although, what that special status is I don't know, because as far as I can tell, this wretched deal is as hollow as the centre of Polo mint. And I'll be surprised if Cameron knows what it is. Right now, Cameron is like a two year old who has just smeared the walls of his bedroom with his own shit, and is now proudly showing the brown coloured palms of his hands to his horrified parents.
I am not just angry, I am fucking insulted, that Cameron's contempt for the British people is such that he actually thinks we're all stupid enough to think he's brought back something meaningful from Brussels. He actually brought back LESS than what he went with. And now we know that the June 23rd is referendum day, we're going to have four months of lies and bellendery from those dumb fucks who hate democracy and want unelected foreign cunts who hate us to run this country.
My birthday is on the 30th of June. I'm hoping a majority of British people will give the best birthday present ever, and vote to leave the EU.
Nominated by : Quick Draw McGraw