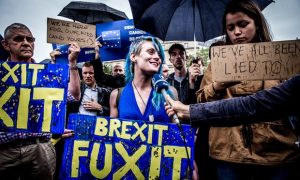 Remainers. Again. So here we are, nine weeks after telling the EU to go uck itself. The world has not descended into to World War 3. The UK is NOT in recession, nor is it likely to be anytime soon. In fact, NONE of the doom laden predictions of Cameron, Osbourne and all the other lying traitors has proved to be even remotely true. Yet we STILL have braindead, ignorant, cock sucking, anti-democratic SCUM, whingeing about the result of the referendum.
On Saturday there were demonstrations in London, Edinburgh, Birmingham, Oxford, and Cambridge. Backed by arrogant arsewipes like Umunna and 'comedian' Izzard, (dunno about comedian, he's certainly a clown), these tiresome arseholes will once again demand that democracy be pissed on, and a second referendum held. How many times must these traitors be told…NO?
So weary am I of these whingeing fucking monkeys, that I would not only applaud an ISIS attack on these scum, I would actually offer to pay for the ammunition and explosives. The referendum is OVER, you ignorant fucking cretins. Democracy has been done, the people have spoken. It doesn't matter that you disagree with the result. What you're too thick to understand is that this is how democracy works. We get asked a question. In this case, 'Do you want to leave the EU, or stay in'? We then get to vote. Some people will vote to leave, and some will vote to stay. Whichever has the most votes at the end, is the winner. In this case, LEAVE won. It was simple, it was fair, it was democratic.
If you wish to live in an EU country, that's fine. You have every right to do so. I suggest you pick an EU country, France, Belgium or Germany for example, and FUCK OFF to live there. Because regardless of your fucking childish whingeing, insults and foot stomping, this country IS leaving the EU. And there is NOTHING you can do about it. So, either move to the continent and live in your anti-democratic, EU dictatorship, or SHUT THE FUCK UP!!!
Nominated by: Quick Draw McGraw