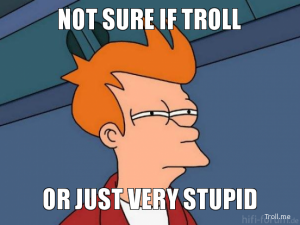 It's competition time over at "The Troll's Lair"!
Our favourite tripe hound has been unsuccessfully trying to post shite on this blog since 10 o'clock yesterday morning. So far he's tried 81 anonymous proxy servers. All blocked.
But that doesn't stop our Rickie! As off 14:11 today he's tried to get in no less than 1,780 times.
So here's the craic. Guess at what time Rickie will make his 2,000th unsuccessful attempt and win a prize. Details on his very own site which you can find [here]
Enjoy!…
Nominated by: Dioclese