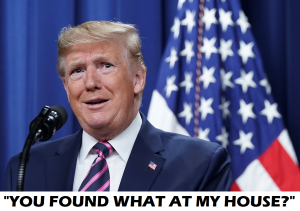 Among the many accusations made against former president Donald Trump since he left office are that he fraudulently inflated the value of business assets to obtain favourable loans, he deflated the value of other assets to reduce taxes, he attempted to coerce officials to alter election results in his favour and incited the attack on the Capitol Building to prevent the transfer of power following his election defeat.
As if all that wasn't enough, he is now accused of stealing sensitive documents from the national archives and hiding them at his home in Florida.
The former president has a perfectly credible explanation for this. First of all, he didn't take any documents. And if he did, he gave them back, and if he didn't give them back it was because they belonged to him, and if they didn't belong to him it was alright because they were declassified, and if they weren't declassified they were planted by the FBI.
As a former president who had the election stolen from him he should be given the benefit of the doubt. Anyone who won't accept his explanation has to be an unamerican child-molesting devil-worshipping democrat.
True patriots who wish to help fund his legal team to fight the various false allegations made against him, and make America great again, can donate by cash, card or cheque. Thank you.
What actually happened was, multiple requests were made for the return of the missing documents. Some were handed over but despite further requests, Trump's lawyers insisted that was all he had. After months of prevarication a judge signed a search warrant and the FBI retrieved the remaining documents from Trump's home.
The fact that he took the documents, and shouldn't have, is inescapable. The question is, why did he take them in the first place? Not even Donald Trump could seriously imagine that they had somehow become his own personal property. Apart from their monetary value, the obvious reason is leverage – 'you see your way to dropping any criminal charges against me and I'll see these things don't fall into the wrong hands'.
Is there anyone who still thinks Trump puts his country first? One way of making America great again would be to have the Orange Man measured for an orange suit.
https://nymag.com/intelligencer/article/donald-trump-criminal-case.html
Nominated by: Allan