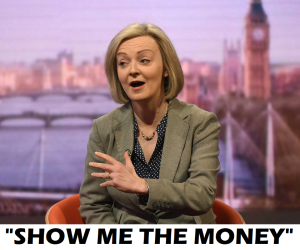 Or to be more precise, 44 days of work with £19,000 severence pay and £115,000 a year of life. What sort of fucking system is this that awards these sums of money for doing nothing but fucking over the country.
On the other hand, maybe she's not a cunt after all. Perhaps she should be on the Trivento adverts on the telly?
I can see it know : "£115,000 a year for 44 days doing fuck all. That's a splash of the bold"
Maybe she's not such a cunt after all.
Then again she's only got away with not being on the wall of cunts 'cos she wasn't around long enough. Seems a shame she's not going to match the Maybot's triple winner Cunt of the Year. Surely she deserves it?
But then again there's the payoff. I'm in mixed minds on this fucker…
Sly News Link.
Grauniad Link.
(Links kindly provided by the dashing Night Admin – NA)
(Get yer tits out for the lads, Liz –  Day Admin)
Nominated by: Rt. Hon. Dioclese
(Note – we have a separate nom on MPs' expenses due to go live soon. Therefore please focus your anger on just Trussbag here, Thanks – Day Admin)