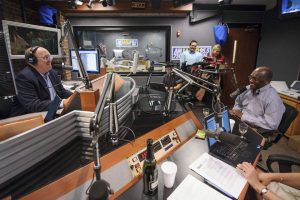 Radio phone-ins should be cunted. It's the cheapest form of radio to make and there's no quality control at all – so long as the time is filled with the worthless opinions of cunts, everyone's happy.
Many years ago, a friend and I used to regularly phone in to these shows to make mischief, knowing that there was little doubt that we would be put through to the presenter live on air. I once hijacked almost an entire show on the subject of 'Nostalgia' by phoning in and claiming to be one of the actors who had been inside the Bungle costume on the children's TV show 'Rainbow'.
The idiot local radio presenter cunt couldn't get enough of my fabricated stories: "Wasn't it hot inside the costume?" he asked. Yes, I said, that's why I rarely wore anything but a tiny pair of red Speedos underneath. "You could never see the join or the zips in the costume," he said. I know, I replied, there had been complaints from parents that the early costume looked like a crappy fancy dress outfit, so I was actually sewn into the later costumes. This made loo breaks impossible, I continued, so they fitted me with the same kind of 'bottle' that astronauts use. So next time you see old re-runs of 'Rainbow', just imagine Bungle with a bottle of warm urine strapped to his inside leg…
But my friend topped this by getting through to Jeremy Vine. The subject of the show was something like 'Confessions' and my friend called in saying that he'd been stealing coats and jackets out of pubs – two a week for almost ten years – and was unable to help himself. Vine expressed concern and actually invited him back the following week to speak to a psychiatric counsellor where my friend gladly elaborated the story: when he had first moved to London, he'd had his own rather expensive jacket stolen from a pub, so he assumed his compulsion must be a kind of revenge stealing. "Do you actually want to stop?" asked the counsellor in hushed tones. "Of course I do," said my friend, "I keep them all in a lock-up and the rent is crippling me…"
There's an amusing postscript to the Jeremy Vine hoax. About eighteen months later, a so-called 'conceptual artist' (translation: cunt) by the name of Mike Ballard announced his next 'exhibition' – a gallery space hung with jackets and coats he claimed to have been stealing out of pubs for almost ten years ("two a week… in revenge for having my own jacket stolen from a pub when I first moved to London"). In reality it was clear that the lazy cunt had simply heard my friend hoax Jeremy Vine and then thought he'd just pinch the idea for a bit of conceptual art – which just serves to demonstrate what indolent, work-shy cunts modern artists are. He was probably pissing away his grant and decided to nick someone else's idea off the radio at the last minute because it was easier than having to think up something original.
Nominated by: Fred West