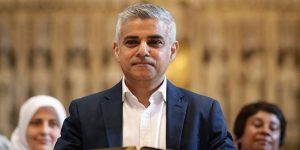 Sad Dick Cunt deserves, like his *honourable* friend Anthony Blair, a 24/7 cunting.
The idiotic shit brained little fucker has decided that it is quite in order to insult Donald Trump during his upcoming London visit, in the most childish way possible.
So the fuckwit who *runs* London, who has presided over a ramshackle administration, over more than 80 murders in the first half of this year, who spends more time worrying about Brexit than the shithole with it's filth and *inclusion* that is London has now got under the barrel and started scraping it, to dig up more right on shit.
This cunt couldn't run a supermarket let alone a Capital city.
Nominated by W.C.Boggs
Sadiq Khan is on record as saying the the UK should apologise for the Amritsar massacre.
I suggest that we do so – but only after Islam has apologised for the 7/7 London bombings.
Nominated by Pedantic Cunt