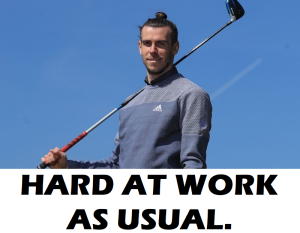 I suppose at the end of the day we´re all in it for the money but most of us at least have some self pride and put an effort into earning our wages. Unless you are Gareth Bale, that is.
This guy, who is now 32 and nearing the end of his career, has done virtually nothing for the last five or six years for his club – Real Madrid – or his country Wales – except expand his bank balance.
He (or his agent) managed to get some watertight contract that means Real Madrid – which paid a world record transfer fee of 100 million euros – can´t get rid of him although they hate him and has allowed him to make a fortune for doing nothing. Real were so pissed off they "loaned" him to his old team Spurs where, guess what, he spent more time on the substitutes bench than on the field.
I had actually forgotten about him until I read today that he has just made his first appearance in nearly six months and hit the bar in a game in which Real Madrid drew 0-0 with Villarreal. This was his first game since August 28 last year. Pity he didn´t actually score. If so, he could have asked for a raise from his current wage of nearly US$700,000 a week.
Top 10 highest-paid soccer players in the world in 2021:
https://www.marca.com/en/football/international-football/2021/08/31/612e3f93e2704ee36d8b463e.html
Nominated by: Mr Polly