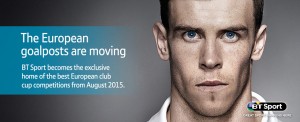 If I may nominate this BT ad: The face of a cunt!
Hate the fucking jasper in this picture. Why is this cunt staring out of me newspaper at me every sodding day? No idea who the cunt is. Do not care who the cunt is. Only know that the bugger is the personification of a cunt. Little arse lick on the bottom lip. Obviously lower ranks with very little between the ears but accustomed to taking a few big ones up the arse.
In fact recall me old mess sergeant in Burma peddling a little squaddie with a very similar piece of bum at a shilling a poke.
Cunt's been saluting me arse for weeks now in me khazi. More satisfaction and cheaper than Andrex.
Nominated by: Sir Limply Stoke
( This is Gareth Bale. Plays for Spurs but rumoured to be trousering millions to fuck off to Real Madrid. BT confirm he will remain their anchor man even if he takes the move. Ironically, BT won't be showing him on the pitch if he moves, because the rights to the Spanish League are owned by Sky Sports. How fucking delicious is that? Ed. )