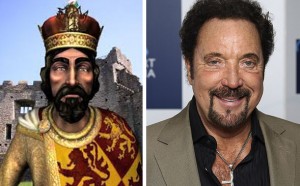 Owain Glydwr was a beardy cunt. Miserable looking fucker to boot.
Schooled in England, Employed in the British Army (fought against the Scots). Then fucks of back to Welsh Wales to indulge his penchent for setting fire to cottages. Cunt!
That Tom Jones is due for a darned good cunting too 'cos he's got a face that looks like it's been painted on an overinflated balloon. Did you know he can't blink when he's got a hard-on?
Nominated by: Fleaboy

Has anyone noticed the remarkable resemblance between the last native Welshman to hold the title 'Prince of Wales' Owain Glydwr and the Welsh Prince of Pop, Tom Jones.
Neither of the cunts could sing. 'The Voice' my arse!
Perhaps they are related, I think we should be told…
Nominated by: Dioclese