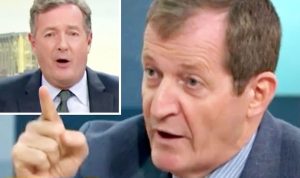 I have always thought that Alastair Campbell was singularly arrogant and unpleasant little man, but his appearance on GMTV yesterday morning was beyond the pale even for him.
In a three way 'discussion' with Piers Morgan and John Redwood, Redwood hardly got a word in while he and Morgan descended into a mutual slagging match. Now Morgan's a bit of a cunt, but he did say "I voted Remain, but I accept the result so fair do's. Campbell furiously told Morgan to 'shut up' and complaining that Morgan wanted to only hear 'his own monologues' as the two gestured angrily at each other. That's a bit rich coming from Campbell.
Morgan continued: "David Cameron, a week before the referendum, went on national television and addressed the British people. He made it absolutely crystal clear in simple language, this would involve the single market and customs union and that there would be no second vote. This was it. This was a once in a lifetime decision. This idea that somehow seventeen and a half million people are so thick that they didn't hear him say it, and didn't understand what it meant, I think it's so insulting!"
But then Alastair Campbell is insulting, arrogant, self opinionated and dishonest. Why isn't he in jail for 'sexing up' the 'dodgy dossier' that took us into an illegal war in Iraq?
Is it because he's above such things? On a higher intellectual plain to us plebs?
Or is it just because he's an obnoxious little cunt?..
Nominated by Dioclese