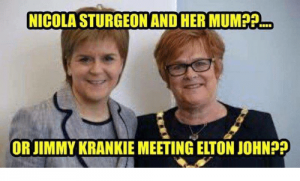 An Edinburgh Festival cunting please, with a gift box of shortbread, whisky, and a piss-stained jockstrap from Alex Salmond's chest of drawers, for the old Scottish whorecunt, who, is banging the independence drum yet again:
https://uk.news.yahoo.com/draft-bill-indyref2-set-parliament-141502895.html
It was supposed to be a "once in a generation" vote 6 years ago. Today Scotland is a basket case, the oil has nearly all ran out (Nicola herself probably uses it as lube), their Covid infection rate is increasing and the old tart is still at it, spurred on by her distaste for Brexit.
Unless she really is as stupid as she looks, she will know that the hierarchy of the EU have already told her thar Scotland can't rejoin, so it would still be London wee Sturgeon would be running to with her hand out when it all goes tits up, as it most definately would if wee Scotland gained independence.
The old cunt should fuck off and boil her head, or lay herself doon and dee – or – better still – off to the Singapore Caning Room for 24 strokes across her bare arse.
Nominated by: W. C. Boggs…
And seconded by Cuntologist:
Nicola Sturgeon
Sturgeon has undoubtedly been looking to Chairman Dan Andrews of Victoria for ideas on how to be a tyrannical lunatic.
She has put Aberdeen into full lockdown and Glasgow back on lighter restrictions for Coronavirus.
Lockdowns don't work.
Scotland is in the grip of a mad dog along with a mad dog pack called the SNP.