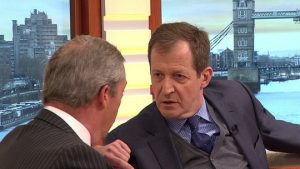 Alastair Campbell is on this week pontificating about how he will reverse Brexit whilst smirking and patronizing all leave voters.I will give him an emergency no holds barred cunting tomorrow when I am less tired.I am shouting cunt at the TV and am tempted to chuck it out of the window.I think he might get my nomination for COTY 2017 such a horrible duplicitous arrogant terrorist loving europhile shitbag.Cunt cunt cunt cunt cunt cunt!!!!!!!!!!!!!!
Nominated by Shaun
One of the many things I despise about Campbell is when he goes fishing for sympathy about his 'depression'. Fuck off Al, perhaps it's just a moment of clarity, and you realise how much of a massive cunt you are, and how your best friend is an even bigger cunt. Crawl back under your rock you despicable twat, you're part of the reason this country is as fucked as it is.
Nominated by Gutstick Japseye
Campbell has been on the anti-brexit 'The Wright Stuff' all week, bleating on about how the worlds ending due to brexit, with Pantomime Dame Matthew Wright, nodding in agreement with Campbell. Matthew Wright is a double of my auntie Betty, all he needs is a fur hat and clip on ear rings.
Nominated by Harry Balls