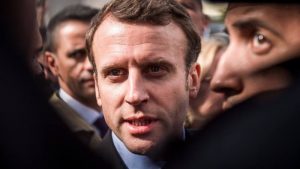 A Massive CUNTING for Macron , the EU elitist machine and the fucking stupid Spanish socialist prime minister Pedro Sánchez
Smug fuck Macron , dispatched by his masters, has just " agreed " with Spain that they should be the new fucking drop off center for the taxi service the NGO's provide in the Med.
Now this news was released 1am in the morning and I haven't seen fucking mention of it since….. I'm truly fucking in despair. Andalucia is fucking doomed. The region with so much history and beauty is to become the sub Saharan African toilet from now on and that is a fucking tragedy.
I knew this was coming ……Macron the stooge flies in, threatens Sanchez that he's due the European Central Bank fucking billions and his neighbours Italy have stopped playing ball, so he better sell out his people/culture/country and become the new drop off zone for millions of people that have no right to benefit from a culture they never fucking ever contributed to and are not prepared to embrace.
This is not a racist statement. It is fact. They have had no enlightenment, no reformation of religion, no industrial revolution, no political revolution of equality between the sexes ( of which there are 2 ). It is a plague of backward ideas and behaviours and now Spain must suffer.
I am fucking gutted. I thought with Austria/Hungary/Poland/Czech Rep and Italy finally waking up that normal everyday people were making a difference, then I see the reality. I shouldn't be surprised; if Spain said no then they'd just go one country further west and strong arm Portugal and use their debt crisis to force them into the same deal.
There's video footage today showing immigrants fleeing a boat landed on a Spanish beach and disappearing into the interior….. and it's just the start of a daily occurrence for the Andelucian people. And for you if you decide to holiday there.
I can't express my fucking anger at this in words. It's edging closer and closer to us and something I thought would over run us long after I was dead is happening in my lifetime. The traitors in this country are going to deprive us of the only chance we had to stem the tide and that is just not fair. I don't mind a fight but I want a fair chance in one….
Sorry for the long post and lack of humour in it but we are sleepwalking into a cultural disaster we can't reverse.
Nominated by Squint Cuntwood