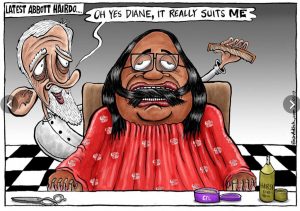 Normally, when the Abbottopotamus is on TV, I have to press the mute button. There's only so much stupid I can handle. For some reason though, I watched her being interviewed on TV by that other cunt, Piers Morgan. I find it truly soul destroying that there are people in this country, Corbyn supporters, but still people (just) , who consider this bulbous cretin, this enigma of evolution, this affront to the human race, to be a fit and proper person to be the Home Secretary in a Labour government. I wouldn't trust the Queen of Retards to knock on a door, never mind be the person in charge of national security.
Having watched her dodge a simple question SIX times, it baffles me how she manages to walk upright. How the fuck can someone as staggeringly thick as this biological balloon put even one word together, never mind a whole sentence. And she has the nerve to claim that people hate her because WE are racist? No, Diane, we hate you because you're an arrogant, self-important moron, who has an IQ so low, even a single celled organism would look at you and say, "fuck me, what a thick cunt SHE is". This wasn't a train wreck interview. It wasn't a car crash interview. It was the interview equivalent of the impact of the meteor that hit Earth 65 million years ago and wiped out the dinosaurs. Those motherfuckers got lucky, they didn't have to endure this slow witted waste of a sperm and an egg. How can someone as devoid of intellect as her be considered human? Even the fleas on a baboon's arse are more intelligent than her.
What's even more staggering, is that there are several thousand people even more stupid than she is. And by sheer coincidence, they all live in the same constituency, because the dumb cunts actually voted for her to represent them in parliament. If ever there was proof that democracy died a horrible death about two centuries ago, the Abbottopotamus is it. And considering the low quality of our current crop of politicians, that takes some doing. She's lucky that breathing is something that doesn't require conscious thought, she'd be well and truly fucked otherwise. On the bright side though, we'd no longer have to endure the idiocy of Diane the Dipshit.
Nominated by Quick Draw McGraw