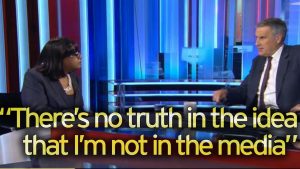 Diane Abbott is a cunt.
I mean, she just is.
I notice that the fucker has no issue using the 'M' word when it's in the context of…
"The brave Muslim Imam who put himself in harm's way as a driver ploughed through hundreds of innocent worshippers."
"An example not to just the Muslim community but the whole of the UK."
"And rather than allowing division to rule the day, the Muslim community in Finsbury Park is leading the way in bringing people from all walks together."
Etc.
This literally was live from Parliament 5mins ago.
All fucking lies and vitriol. Darren Osborne you cunt!
Diane, the country isn't just divided it's fractured and irreparable, and it's like this because cunts like you gloss over "peaceful" atrocities, will never use the 'M' when in a negative (although accurate and apt) context but will happily use the 'M' word when it comes to love, peace, integration…
You make me fucking sick Diane Abbott!
And let's not forget Finsbury Park Mosque's favourite son, Abu Hamza. He was all for love, peace and integration wasn't he. And the fact he had hooks for hands and had a shot eye was just a misfortune accident with a potato peeler wasn't it.
I mean it couldn't have been the fact that he blew them off while making bombs to blow up infidel, infidels like the ordinary non-"peaceful" folk of the UK (the folk you and your party hate so much) could it!
And all while living in a state paid for 12 bedroom house in Kensington for him and his brood of God knows how many little "bomb makers", also while receiving thousands a month in benefits courtesy of the arse pockets of the ordinary non-"peaceful" folk of the UK (the folk you and your party hate so much) via your treacherous leader of the time: Tony fucking Blair!
And let's not forget having to foot the legal bill to the cost of hundreds of thousands of pounds for the hooky-handed cunt to attempt to avoid deportation. That was UK plc money well spent wasn't it.
Diane Abbott you are a cunt, a thick as pig's shit, racist cunt. But I'm not allowed to say that to you because – as you're a person of colour – that makes me the racist, even though you are the CUNT!
I will never understand how you have held any position in office. I wouldn't let you lick stamps in a post office!
Nominated by Rebel Without a Cunt