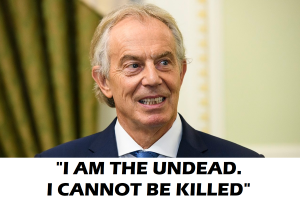 The Tony Blair Institute
Tony 'The devils wankstain' Blair and his 'Institute', which is 'non-profit' and therefore completely innocuous, is already calling for a 4th booster of the same shit you've had already. And a vax taskforce. And to 'cajole' the unjabbed. And a thorough vax pass system.
I don't really care what his bellendry institute says. My point is, why the fuck does this shit even exist? Who is funding it? Why? And what skin in the game does he have anyway!
Should be investigated for corruption, then the doors welded shut with him his fucking repugnant family inside, and carpet bombed into oblivion.
Link to some shit about Blair and his big mouth.
Nominated by: The Big Chunky Cunty
(Notice. Since processing this Nom just over a week ago, we now learn the cunt has become a Knighted Cunt. Given that this nom is about to go live in the next hour, you may as well include his knighthood for a cunting as well and save the bother of creating a new Tony Blair nom just for that. Cheers – Day Admin)