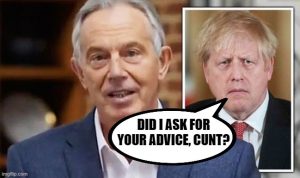 ANTHONY BLAIR:
A limp-wristed-Qweer-Charmer-Is-My-Hero cunting please, for the former Prime Minister and Britain's favourite ballerina, A. Blair, who like that other demented old has-been David Beckham, just can't leave the stage.
This time the effete elder statesman is giving Boris his 'advice' on Covid 19 – that testing is the "only way out" of the lockdown:
https://www.express.co.uk/news/uk/1262011/tony-blair-news-boris-johnson-latest-coronavirus-news-uk-lockdown-covid-19-cases-numbers
Of course, you can see why the prancing old queen has come mincing out of the woodwork. His little crush, Starmer, is likely to assume the leadership of his tottering party this week, and if Blair can vouchsafe advice to the current Prime minister, he will have no qualms doing it for this Blairite mini-me.
If Blair wants to give out advice, his best bet would be to become an agony aunt for a poofters magazine, giving advice on anything from medical problems like arse grapes to relationship advice (survivor of an abusive marriage to wee Gordon) and his specialist subject – makeup advice for elderly queens.
The biggest cunt in Britain stopped being PM 13 years ago. Now he just needs to shut the fuck up.
Nominated by W. C. Boggs